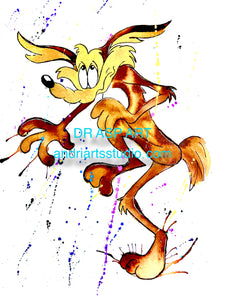 As I work on a new collection to celebrate moving into open studios, by popular demand, I continue with my childhood-favourite retro-cartoon theme. 
Wiley Cayote was a clumsy baboon never quite able to capture Road Runner ... also now available in my vibrant fluid art style.. 
Prints are limited and giclée/museum quality. You can also add the option of a uniquely hand-embellished piece, which involves a bit of bling on the art works and my signature splash on the print and mount.
Sold directly from UK artist, Andri Soteri-Proctor
Hand-signed limited print range (small and medium ltd 500, large limited to 25)
Giclée (gallery quality) -- using canon archival 10 ink range and archival gallery paper
Three sizes available:
A3+ with or without standard white mount 
A4 in 16 x 12 white mount 
A5 in 12 x 10 white mount
Larger tailored canvases may also be available on request -- these start from £350. Contact artist for more information.
Please note:
colour on screen will vary from print and image framing is slightly reduced once mounted, contact artist directly if you would prefer the print without a mount on a.soteriproctor@gmail.com