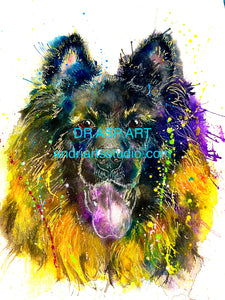 The magnificent blending of her favourite colours bring out the fantastic character of the German Shepherd, capturing the artist's partisan love for this particular breed of dog (although the Samoyed tops all canines!).
Whilst this artwork looks good in all sizes, the eye-catching impact of the large print size cannot be ignored.
The colour and detail is well captured in the high quality giclèe printing process; which uses ten-tones of Canon archival pigment ink and Hahnemuhle archival paper. 
Sold directly from UK artist, Andri Soteri-Proctor
Hand-signed limited print range (500 in medium and small size)
Three sizes available:
A3+ with or without standard white mount (ltd 19)
A4 in 16 x 12 white mount 
A5 in 12 x 10 white mount
Larger tailored prints may be available on request -- contact artist for more information.
Please note:
colour on screen will vary from print and image framing is slightly reduced once mounted, contact artist directly if you would prefer the print without a mount on a.soteriproctor@gmail.com