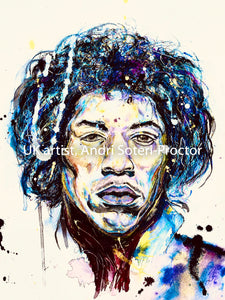 Jimmy Hendrix

It's taken lockdown to get me back to this project, which I started four years: the  collection of legendary musician portraits in my impressionist experimental style mashed with digital play.
Other prints in this collection include David Bowie and Amy Winehouse in various versions -- but more will follow ...
All images are printed on gallery quality paper using 10-toned archival ink aka giclée prints. 
Only 9 hand-signed prints are available for each of these images
The standard print size is 19 x 13 (A3+) with a standard white mount. Other sizes are available on request.
If you like and you buy, please remember that the image on the screen will always vary from the print and be patient as they are printed, mounted, signed and packaged to order.
If you have any queries about this artwork you can contact me directly on a.soteriproctor@gmail.com