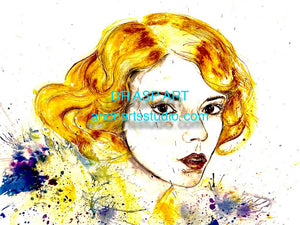 Friend, foe or just family!

Gina Gray steps up in Season 6... what will happen to the Peaky Blinder clan?
Looks particularly amazing on award winning metallic paper. Contact if you would like advice on print paper.
Artwork is sold as a limited and open edition, depending on size.
A3 (and larger) - only 9 hand signed Ltd giclee
A4 - 50 handsigned ltd giclee
A5 - signed open edition giclee
Please note, border varies once printed and mounted. Colour from screen varies from print.
3 A/Cs and 3 A/Ps for each character