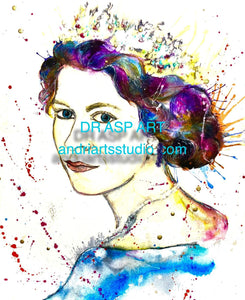 Queen Elizabeth II (Elizabeth Alexandra Mary)

21 April 1926 - 8 September 1922
As the longest recorded British monarch , without doubt this piece belongs in my Portrait of Legends collection. 

She reigned for 70 years and 214 days. This particular art piece was initially released for a charity supporting senior citizens in my neighbourhood for the 70 year Jubilee celebrations. They hold no. 1/9 in the large ltd giclee series.
There are four main sizes:
Large: A3/A3+ (limited to 9) signed by artist
Medium: A4 in 16 x12" mount (limited to 50) signed by artist
Small Open Edition - A5 in 10x12 " mount
Budget sized art - A6 in 8x6" mount
All artwork is printed on gallery quality paper using 10-toned archival ink aka giclée prints.  
If you like and you buy, please remember that the image on the screen will always vary from the print and be patient as they are printed, mounted, signed and packaged to order.
If you have any queries about this artwork you can contact me directly on a.soteriproctor@gmail.com