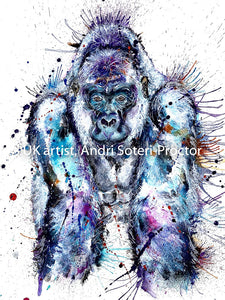 wThis was a labour of love that illustrates my free-flowing style balanced with fine art detail. It's only just been released and is already drawing a crowd at the Manchester Makers markets.
Sold directly from UK artist, Andri Soteri-Proctor
Limited print run of 67 hand-signed prints; of which only 9 are in A3+ size.
A3+ with or without standard white mount 
A4 in 16 x 12 white mount 
Giclée (gallery quality) -- using canon archival 10 ink range and archival gallery paper
Larger tailored prints may be available on request -- contact artist for more information.
Please note:
colour on screen will vary from print and image framing is slightly reduced once mounted, contact artist directly if you would prefer the print without a mount on a.soteriproctor@gmail.com