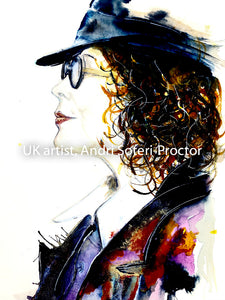 Polly

Helen McCrory - absolute legend, RIP.
This was a challenging piece to create -- I started the PB collection before Helen's sad passing; when I heard the news I put this piece down and paused for a while... I felt the pressure to do her justice ... the character is a legend, but so too is Helen - I hope I have done her justice!
Artwork is sold as a limited and open edition, depending on size.
A3 (and larger) - only 9 hand signed Ltd giclee
A4 - 50 handsigned ltd giclee
A5 - signed open edition giclee
Please note, border varies once printed and mounted. Colour from screen varies from print.
3 A/Cs and 3 A/Ps for each character