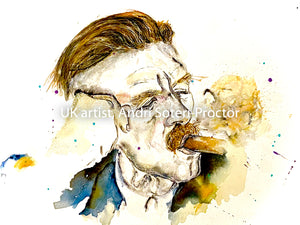 Arthur
Don't you just love him?
Two styles of artwork available -- one with a smoking cigar and another capturing his shouty boxy face
Artwork is sold as a limited and open edition, depending on size.
A3 (and larger) - only 9 hand signed Ltd giclee
A4 - 50 handsigned ltd giclee
A5 - signed open edition giclee
Please note, border varies once printed and mounted. Colour from screen varies from print.
3 A/Cs and 3 A/Ps for each character